Where
we are
---
Our headquarters is in one of Campinas/SP main avenues, next to Latin America's greatest research centers. From our main office, we deliver our solution to the entire world. We are also present in Australia, the Argentina, Chile, and Canada – as well as wherever our clients need.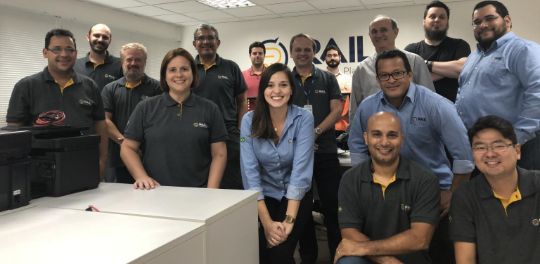 Team
---
In Campinas we count on highly capable professionals – some with many years' experience in the railroad sector. Our interdisciplinary team includes sellers, marketers, system analysts, finances, administration, human resources, project management and research & development among them.
Luís Elesbão de Oliveira Neto
(Founder and CEO)
Railmp founder and CEO. With over 20 years of experience in freight and heavy-haul railway operations, having been Director of Operations at Brasil Ferrovias S.A. (freight/bulk carrier), Operations Superintendent at MRS Logistics S.A. (heavy-haul iron ore carrier) and General Operation and Maintenance Manager at Vale S.A. (heavy-haul iron ore carrier).
Carlos Eduardo Fontenelle Carneiro
(Partner and CFO)
After more than 20 years' experience in general and heavy-haul cargo railroads, having been Operations Director at MRS Logistica S.A. and Transnordestina Logistica S.A. and Operations General Manager at Estrada de Ferro Carajas, Estrada de Ferro Vitoria a Minas and Ferrovia Centro Atlantica, all of which are members of the Vale S.A. group. In 2009 became a partner at Railmp, a decision-making system provider for the railway business. Currently heads financial, commercial and marketing strategies for the Rail Movement Planner™ product.
Paulo Sérgio de Castro Silva
(Project Manager)
Acting in the software industry and project leadership for over 20 years, Paulo Silva is currently acting as Project Manager at Railmp. PMP certified, having worked with RUP and Agile methodology, has been part of the Rail Movement Planner™ product team for more than 5 years, leading fruitful product deliveries for several clients such as Empresa de los Ferrocarrilles del Estado, Ferrosur Roca and Rio Tinto.

Phone:
+55 (19) 3112-0950

Address:
Ed. Helbor Offices Norte Sul – Av.
José de Souza Campos, 1073 – Sala
1507 – Cambuí, Campinas/SP

E-mail:
commercial@railmp.com