If you want optimized responses to any incident in your railroad, we have the solution: Rail Movement Planner™.
It is a real-time train scheduling and planning that assists improving your operation.
Watch our videos and know more!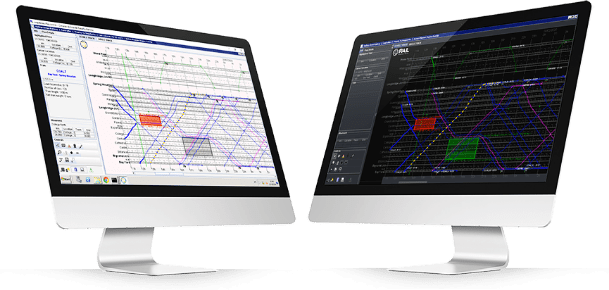 More regularity, less delays, and optimized decisions all the time.
Come to the future and try Rail Movement Planner™
When the optimal solution isn't enough – Rail Movement Planner™ can adapt itself with Meta Planning Engine in order to address any given situation.
How can you plan train circulation optimally while undergoing maintenance? Rail Movement Planner™ helps you solve this issue!
How to deal with conflicts of interest and the ever-changing challenges of daily railway operations?
Following the trend set by many software and apps, Rail Movement Planner™ now displays its interface in what industry calls a dark mode.
Rail Movement Planner™ | Achieving more with less
Do you know how to optimize decision making at the control center of your railroad operation? How to manage demands from the whole network? Get to know the benefits of Rail Movement Planner™ – for the operation and for the controller.
Rail Movement Planner™ | RMP and productivity: amplifying your team's performance
Aside from being the perfect solution for real time railroad traffic planning, Rail Movement Planner™ also brings benefits for your team
Rail Movement Planner™ in any operation in the world – flexible remote installation.
Among the core challenges we face in the current pandemic scenario, adapting work methods through innovation and effective remote work alternatives became paramount.